Chris Hack
Metamorphic Technique® Profil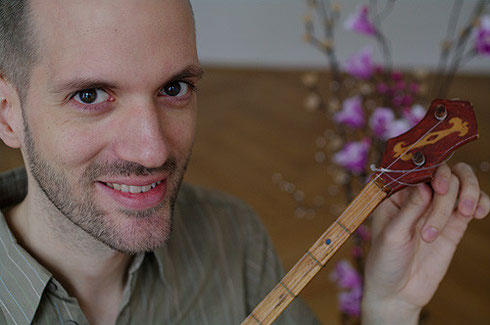 My relationship with the Metamorphic Technique
The active attitude of letting be (as distinct from letting go) is crucial within the context of a Metamorphic Technique session.
It is a practical, easy to use and a very economical state of mind. This helps me to provide the person who comes for a session an inner environment free of giving any direction and also free of interference coming from ideas or beliefs I might be holding.
If it occurs to me, this setting is occasionally used outside of a session. This is helpful for example in order to provide a breeding ground for creativity to emerge, such as when improvising music on stage.
If I had a motto with this work, I would put it this way:
Getting involved by keeping out of the way!
The miracle of life that we are, is revealing itself through the adventure of who we are (i.e. the person who is in pain, the one who is in joy etc...).
What I'm learning here is that truly all the facts are at our disposal - the ones we welcome as well as the ones we try to avoid. This is a perspective with which I resonate strongly and it also resonates with the Metamorphic Technique itself.
More about myself

I especially enjoy exploring nature, meeting people and listening to different, as well as opposing views and conversing about them. The variety of perspectives one can get in listening is so rich - it is an endless amazement to me. This I already find very transformative.
Some dates

I joined the Metamorphic Association (an international educational charity) in 2004. The inspiration and insights I get from being part of this vibrant community with sharing groups, gatherings, conference calls etc. have a large and sustained impact on me. Networking there makes it easy to take part in

 

charitable activities, as well as to initiate them.
Since spring 2004 I have had my own premises in the city centre of Munich for groups, workshops and of course for giving private sessions.
In 2006 I completed teacher training with founder Gaston Saint-Pierre in order to more deeply explore the theory behind this approach. After many years of organizing seminars and other events for Gaston, I decided to begin teaching and giving talks on the subject of transformation.
I feel honoured to be part of a demanding and very nourishing experience at the board of trustees, which I was invited to join in 2011.
Get in touch

You can meet me occasionally in London, Manchester or Dublin, where I visit several times a year for metamorphic activities as well as giving concerts. My home base is Munich, Germany.
Please feel free to get in touch with me!
Kind regards,
Chris
ps.:
A convenient way of getting to know the Metamorphic Technique is to simply watch the DVD which I produced with Gaston Saint-Pierre. You can also share this mini workshop video with friends and exchange a session straight away whilst watching it! The simplicity of the session is one of the beauties of this work, as anybody can give a session.
Keep in touch...